Introduction
An AI chatbot is a computer program that is designed to replicate conversation with human users through text or voice interactions. It uses natural language processing and machine learning to simulate human conversation. Due to AI's (Intelligent Assistant) capacity to enhance industrial processes, anticipate equipment issues, and offer smart services that are more efficient, every industry nowadays gives it a high priority. AI assists in reducing human mistakes, resulting in error free processes and products. A good chatbot can improve customer satisfaction and save time and resources for a business. 
Over the past decade, AI has made significant progress in Nepal as a result of the country's economic growth, globalization and technological advancement. Also, it has recently  become a hot topic for Nepalese society.
AI chatbots are classified into two main categories:
Rule-based Chatbots:

It follows a predefined set of rules and patterns to respond.

Conversational Chatbots:

It uses machine learning algorithms to learn from the interactions and gradually improve their response.
How AI chatbots Works: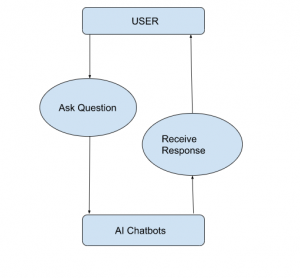 Benefits:
24*7 availability

: Without human intervention, chatbots can offer support and customer care around-the-clock.

Cost Saving

: Chatbots can handle a  high volume of simple, repetitive tasks, eliminating the need for employees and lower labor expenses.

Personalization:

A more individualized experience can be achieved to recognize and respond to the requirements and preferences of specified users.

Efficiency:

Chatbots can quickly process and analyze large amounts of data, providing users with fast and accurate information.

Multilingual Support:

With the ability to learn many languages, chatbots are helpful for businesses that serve clients around the world. 

Automated Regular Activities:

Chatbot can automate repetitive tasks like scheduling appointments, responding to frequently asked questions and completing purchases.

Enhancing Customer Engagement:

Real-time interactions with customers through chatbots can boost engagement and raise customer satisfaction.
Usages:
The introduction of AI chatbots is one remedy that is growing in popularity. AI chatbots can provide personalized product recommendations, respond to the customer service questions, trace orders, help with returns and refunds, help customers navigate their sites and complete their purchase.
Healthcare

: Hospital and medical have been using AI (Intelligent Assistant) for quite a long time now. Applying AI is designed to result in improved outcomes for patients in terms of workflow effectiveness, predictive analysis, and individualized therapy suggestions. Patients are now able to keep in touch with doctors whenever they need to. The chatbots can be used to ask patient queries regarding scheduling an appointment, prescription help, access symptoms and reminders to follow up.

Banking and finance:

Chatbots for banking and finance are primarily used to enhance customers' experience on digital banking platforms. They are more accessible in today's hectic, fast-paced world by enhancing customer's engagement and reducing out-dated systems. Chatbots can be used for a number of banking and finance tasks, including gathering and processing data and documents, setting up and managing customer accounts, displaying account information and balances, reducing waiting time, performing KYC procedure, sending and receiving transactions. 

Tourism:

The natural beauty of Nepal is well known, and those seeking adventure find it to be a very attractive destination. Tourism providers in Nepal can integrate AI chatbots to their system to recommend best locations for the visitors based on their needs. AI chatbots assist travelers in making reservations for hotels, flight and other relevant services. Moreover, it provides effective customer services that satisfy clients to the fullest extent possible at every stage of their journey. 
Conclusion
Artificial Intelligence is influencing how humans will live in the future not just in the mentioned field but in almost every sector. For the coming years, it will continue to be the driving force behind emerging technologies like big data, robotics, AI (Intelligent Assistant) chatbots and Internet of Things.